Welcome to the AGILE Data Center
Home Page at SSDC
These pages provide updated information and services in support to the general scientific community for the mission AGILE, which is a small Scientific Mission of the Italian Space Agency (ASI) with participation of INFN, IASF/INAF and CIFS .

AGILE is devoted to gamma-ray astrophysics and it is a first and unique combination of a gamma-ray (AGILE-GRID) and a hard X-ray (SuperAGILE) instrument, for the simultaneous detection and imaging of photons in the 30 MeV - 50 GeV and in the 18 - 60 keV energy ranges. After more than 13 years of operations, AGILE is working nominally, providing valuable data and important scientific results.

AGILE operations:
Launch date 23 April, 2007
Planned Nominal Phase: 2 + 2 extended years
Elapsed: 13 years in orbit completed on 23 April, 2020
Current Extended Phase: ASI extended AGILE operations up to 31 May, 2022
---
The AGILE Mission Board (AMB) has executive power overseeing all the scientific matters of the AGILE Mission and is composed of:

- AGILE Principal Investigator: Marco Tavani, INAF Rome (Chair)
- ASI Project Scientist: Paolo Giommi, ASI
- ASI Mission Director: Fabio D'Amico, ASI
(Former ASI Mission Directors: Luca Salotti, up to September 20, 2010 and Giovanni Valentini up to January 22, 2015)
- AGILE Co-Principal Investigator: Guido Barbiellini, INFN Trieste
- 1 ASI representative: Elisabetta Tommasi di Vignano
(Former ASI representative: Sergio Colafrancesco up to June, 2010)

- INAF Project Scientist: Carlotta Pittori (from November 10, 2020)


AGILE current spinning sky view
(Click here for previous pointing details)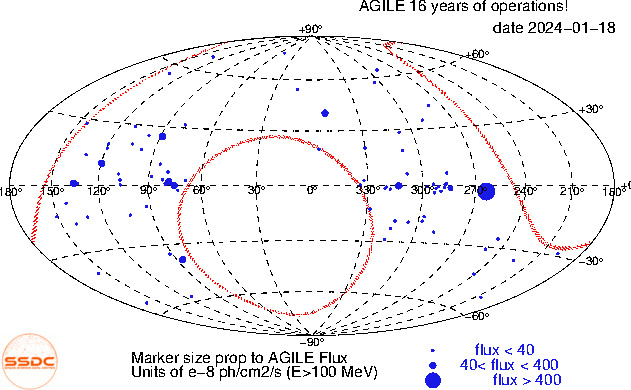 Click here to access the AGILE Spinning FOV plotter
Click here to access the AGILE Real Data FOV Plotter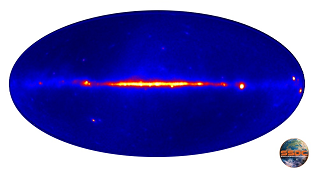 AGILE total intensity map up to Sep. 30, 2017.